The Cantells
The Cantells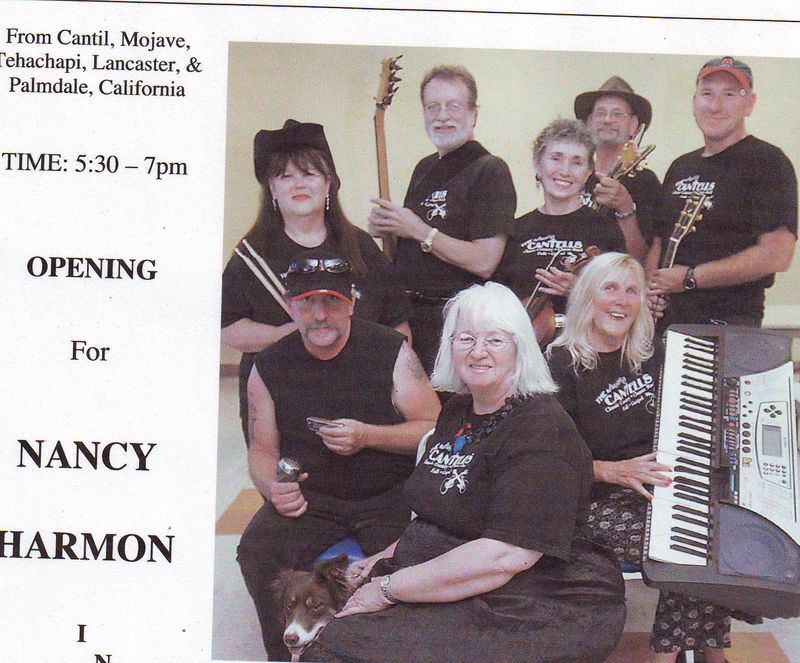 The Cantells was formed by Glenn and Venita Harshman in 1995. The name of the group is a spin-off of where they live in Cantil. Both are songwriters. We are a very active group going into nursing homes monthly. Grace Resources in Landcaster is the first friday of every month. We also play is Churces, for Parties, Food give-a-ways, Weddings, Resturants, Fund raisers, Grand openings, Host open mics and for many other venues.
GIGS
First Friday every month
AV Retirement Manor - 44523 15th st W. Lancaster - @ 1:30pm Mix
Grace Resources - Serria Why Lancaster - 5pm - Mix music
First Wed every month
Second Wed every month
AV Care Center - 44567 15th st W Lancaster - @ 9:30am - Mix
AV Health Care - 44445 15th st W Lancaster - @ 1:30pm - mix
Third Wed every month
Forth Weds every month
Av Care Center - 44567 15th st W Lancaster - @ 9:30am - mix
AV Retirement Manor - 44523 15th st W Lancaster - @ 1:30pm Mix
Please note more will be added as soon as they come in for this month and the next two months.
FOR BOOKINGS or info call Glenn or Venita @ 760-373-4204 or E-MAIL us @ drglennharshman_5@hotmail.com .
Thank you for visiting and hope to be performing for your next function.
History
In 2006 the Cantells played in Tehachapi for the Farmers Market and the Art Center. In Ridgecrest they played for the Street Fair and Four Winds Inter-tribal Council 12th Gathering of Nations and Maturango Junction Pow-Wow.
Since 1998 we have performed in the fall event in California City Heritage Days (now Pioneer Days) sponsored by East Kern Historical Mseum Society and Mojave Desert Bank.
The Cantells play our original music as well as our own arrangements of Classic Country, Classic Rock, Bluegrass, a little Blues and Classic Gospel.
This band is full of talent. Glenn, the leader of the group, plays guitar, steel (slide) guitar, bass and sings. He has been playing music since he was four and started professinally at age twelve accompaning many big name bands and groups. Besides writing music, he also teaches guitar and bass specially in individual needs. Glenn plays or has played with a number of people and bands. For example: he plays bass for Brian's band in Tehachapi, played bass with Jimmy Lee Young of Boron, bass with Alexander Longrifle of Tehachapi, bass with Johnny Restivo of Lake Isabella and other groups. He is a Viet Nam Vet, and now retired. Lives in Cantil with his wife and son, Robert.
Venita, one of the singers, is the manager and colaborates wih Glenn on their original music. She has been singing in public since age five.Venita is a back-up singer for "One Truth" in Tehachapi. She lives with her husband, Glenn and son, Robert in Cantil. She is also retired.
Music
There is much attention given to our fallen vets but not much to the wounded and disabled vets. Glenn & Venita wrote the song "Wounded Soldier" in dedication to the many wounded.
"Desert Rider" an earlier piece is getting a lot of attention and is often requested.
http://cdbaby.com/thecantells Where you can order our new CD "By My Side" $10
www.sdcd.com/thecantells Where stores or you can order our new cd "By My Side" $10.
http://www.digstation.com/thecantells Download our music by song or cd.
You can find our CD "By My Side" @ The Old California City Coffee house. You can Call them @ 760.373.1800 to see if they have any in stock or visit them. They have other cds of different groups for sale, as well
Mountian Music in Tehachapi now have our cds @ 205 east F st Tehachapi CA - 661.823.9994. They also have cds of other groups for sale.
We have on us the new cd "By My Side" for $10. and we have The new T-shirts w/t our logo on a black shirt and white letters for $15. Nice looking shirts. Can order from us Glenn Harshman, PO Box 2162, California City CA 93504 or call 760.373.4204 Plus shipping
We like to thank everyone who bought our CD and/or T-shirt and made it a sucess. Thank you for the support.
The cds' and t-shirts - for sale - help off set our traveling expenses & etc.

Other Information
'The Old California City Coffee House' will be hosting local talent over the winter months. See gig dates for the Cantells. ..On every Wednesday bring your arts and crafts... Our hats is off to Cheryl for doing a great job with the coffee house and for the cummunity...Crag Shaw will be peforming either Friday or saturday nights. Please call 760.373.1800 for more info on Crag. Thanks..
'Cal City Clinic' 9300 North Loop Blvd, Suite A&B California City CA. A Family Doctor will be having the 12th Annual Christmas party at his office in which we will be providing the music. The date wiill be posted soon.
'Radio Shack', 8201 California City Blvd, Cal City. Ph#760.373.1200 - 760.373.8047(fax) to meet your electronic needs.
cityhardware@ccis.com 'Ace' 7594 California City Blvd. Cal City 760.373.3307 A great place to meet your home or lawn needs also they have rentals. While there say hi to Bill, the owner.
....................................
Most of our music is done on a volunteer basis although we are offered money for some of the special functions we do which is used for transportation for the band members.
Link to Our Friends
www.oldcalcitycoffeecompany.com Ph#760.373.1800 A great place to have coffee and meet people. While there say hi to Cheryl, the owner.
www.radioshack.com Ph#760.373.1200 A great place to meet your electronic needs and while there check out the postal Annex which is connected to Radio shack for your postal and other needs and while there say hi to Efren the Sales Manager for a great deals.
www.bootbarn.com Ph# 661.7265420 Lancaster CA A great place to get your next pair of boots or western wear. While there say hi to Lori
www.loanstart.com Ph# 661.723 0887 A great place to get a loan for what ever you need (car, Motorclcyle and etc.) While there say hi to Nina Ackermann Branch Manager.
www.zz.com A great bass player & my best friend, Buzz Lange
www.whisperingangels.org A Native Americian Indian non-profit Org. that feed the needy. They have a Thanksginving dinner once a year at Hummel Hall in Rosamond CA.
www.wmamc.com Wish me a merry Christmas campaign - They are great looking buttons. PO Box 5398 Williamsburg, VA 23188 Ph# 1-800-487-7137
http://desertsongfest.org/links.htm?xsppwd=MQ==&ditac=ODg10A== A great place to meet friends to play, or sing folk music.
www.margaretdesertwindsrealty.com 8148 California City Blvd, California City CA 93505. 760.373.4015 A great place to buy or rent a home or apartment. While there say hi to Mrs. Margart Fuller.
Mellor Printing Co. 661.824.3105 - 661.810.2666 mellor@antele.net To meet your printing needs or etc. while there say hi to Candace.
www.fiddlerscrossing.com Mountian music 205 East F st Tehachapi CA. 661.823.9994, Toll free 888.722.9994, or fax 661.823.9077. A great music shop to meet your needs in music from instuments to sheet music or cds. While there Say Hi to Debbie.
Mario's Music, bigmariosmusic@hotmail.com , 661.942.6194, To meet your music needs in Lancaster. Located in the clock tower plaza on 20th st west and K st. While there say hi to Dick or Mario.
www.graceresources.org Grace Resources Center, 45134 N Sierra Hwy. Lancaster CA 93534, Office 661.940.5272, Fax 661.940.5274 Helping to feed the hungry and more.
Oasis Laundry Mat, 661.713.8852, Open 7 days a week from 8am-9pm, Located at the Catus mall California City, to meet your laundry needs. While there say hi to Bill...
http://californiacity-ca.us California City Police Department. When you need help with problems. While there say hi to our new Chief Steve Colerick
www.biz@home@10.net , http://livehealthy.com For your natural herb needs. Say hi to John & Loraine
www.elstonvision.com , Missionaries to Kosovo - They have a great passion to plant seeds in the hearts of the people of Kosovo. When at Wayside Chappel Say hi to Gerold & Linda Elston also give them support with prayers.
www.cyrusprogram.vpweb.com Cyprus Program, Foundation of Life - Pastor & CEO Keegan Harrison - 15834 1/2 Mst Mojave CA 93501 - 661-824-3997 or cyrusprogram@hotmail.com for your spitural needs.
Beacon of Christ Church -1600 Serria Why, Mojave Servics starts @ 10:30 - 661-862-9242 - 1pastor@hotmail.com - Pastor James, for your spitural needs
www.hallstar.net Ph# 661-943-4589 Fax 661-943-0252 To meet your speaker and talent needs 4601 Quarts Hills Rd. Quarts Hills CA 93536 While there Say hi to Kelly. Also To meet your autograph needs from pictures to cds' and Etc. go to www.celebrityscholarship.com This will help raise scholarship
www.avgs.freezoka.com Professional guitarist sharing their talents. A chance to meet other fellow guitarist. When Visiting Say hi to Jack.
Coming soon
We are working on our second cd "God In The Desert" w/t our hit song Desert Rider and hope to have it out by spring 09.
WHAT OTHERS ARE SAYING ABOUT THE CANTELLS
November 6, 1997 Mojave Desert News about Heritage Days - reporter - Brian Jones - "Following last (on the program) but not lest were the Cantells, a local western Band. The Cantells set the stage on fire with songs, ballads and fancy picking. The crowd and fans sang right along and danced the leather right off their boots."
June 7,1998 from Bread of Life of Mojave weekly food give a-way. "Thanks, Cantells."
October 13, 1998 Note from Marie Schotzko of California City. "Dear Glenn & Venita, Thank you very much for sharing your musical talents with the Christian Women's Club, Your songs were enjoyed by all. May God bless you richly.!"
Janurary 6, 1999 E-mail from Dennis Kilostermier "Dear Glenn & Venita, We just finished listening to your Demo...and it was a blessing to our hearts! May our Lord God bless your work to His greater glory and may He guide and protect you here in this life. We hope to see you again sometime soon. In Christ Jesus, Dennis and Priscilla."
July 19, 1999 from Mr & Mrs. Meester of Littlefield, AR. "We really enjoyed your music, Thank you."
May 2002 a note from Jerri Meister "Thank you Glenn & Venita Harshman for your volunteer work at Calvary Bible Christian Academy in California City 2001-2002 for the music you shared with the children during Chapel Time (weekly). The greatest use of life is to spend it for something that will out last it.
January 22, 2003 Marian's Residential Care Facility, Lancaster, "To all of you. Again, we thank you for such a wonderful and uplifting songs you render to our ladies. We really appreciate it. God bless all of you and have a nice day. Staff & Residents."
March 24, 2004 Marian's Residential Care Facility, Lancaster "Dear Glenn, Venita & band. Thank you so much once again. We really enjoy and appreciate your music. Staff & Residents."
October 30, 2005 Hilltop Shopper News - by Buck 50's Entertainment Report - concerning Heritage Days. "The Cantells did a fine job covering Classic Country and Gospel Songs. They sounded like the real deal, as if you had taken a step back in time."
March 2, 2005 Mojave Desert News - by Bill Deaver - regarding the birthday party of Buzz Lange at the Mariah in Mojave -"The Cantells, who, with the Pipers, provided misical entertainment. One of the evening's many highlights was listening to a Western Band (Cantells) with a Scottish bass player (Buzz Lange) playing the New Orleans favorite, 'When the Saints Go Marching In'."
April 23, 2006 from Sandra Christian of La Habra, CA writes, "I so enjoyed your gift of CD's. My favorite sone is 'Not Good Enough'. (From the first CD, 'By My Side'). It's haunting, sticks in the mind, and caught my children's attention!! (She has 13 children, all adopted.) It brought tears to my eyes as we listened on the way to church this morning. Thank God for His grace and mercy. May the Harshmans be equally blessed as you share the "good news" of Jesus. With love, Sandy"
May 4, 2006 - the Mayor of Tehachapi said. ""The Cantells brought class to the Farmers Market this year. I really enjoyed you and your music. Thank you."
Oct. 8, 2007 "Thankyou very much for coming each month. The patients and staff really enjoy you and your wonderful music. We all look forward to your time with us here at AV Care Center." Joyce of Lancaster
Some History of where we played
California City Christian Women's Club - November 1998
Fourth of July Celebration, California City Central Park - 1999
Dedication of Twenty Mule Trail - June 1999- California City - performed the song we wrote "Ode to the Twenty Mule Team" and for the dedication dinner March 19th with the Secretary of State, Bill Jones, in attendance
"Our Lady of Lourdes" 1st & 2nd annual fund raiser event - California City - 1997 & 1998
Shekinah Glory Ministries Street Warrious for Jesus Youth Rally in California City Park - 1993 & 1994
New Hope Church of the Nazarene - California City - in the 1990's
North Edwards Foursquare Church & First Baptist Church in late 1990"s
Christian Evanelists Sanctuary Spanish Mission - Mojave since 1993 & on
Open House and Christmas Parties - Dr. Ali - California City - yearly since 1996
Funerals, weddings, Red Hat Society, Prisons - So. California
Antelope Valley Allied Arts Association- Cedar Centre - Lancaster
Gold Rush Days - Mojave - 1998
Twenty Mule Days - Boron - 1998
Solid Rock Missionary Baptist Church, Cal City (off & on over the years)
Randsburg Old West Days - 2006
Kern County Fair - Bakersfield -2006
Whispering Angels - Free Thanksgiving Dinner - Rosamond - yearly since 2005
In 1999 Glenn & Venita were asked to be in charge of the music and some of the entertainment for Heritage Days (now Pioneer Days) in California City sponsored by East Kern Historical Muesum Society and Mojave Desert Bank, a yearly event the last week-end of September held in Central Park in California City. Did this event for nine years.
Summer of 2007 for a year Free Food Give-a-way in Rosamond
2007 November, 19th. Whispering Angels, Feeding the Needy for Thanksgiving Dinner in Rosamond (3rd annual year for us to play for this event). There was over 950 people who were fed and heard us. Three hour concert. They want us back again next year. Whispering Angles is sponsored by the local group - Native American Indians - Giving back to the community
November, 2007, just after Thanksgiving, A large family rernion in Bakersfield of over a hundred people. Three hour concert.
December 8th, 2007 Christmas Party for Dr. Ali, our eleventh year for the Cantells to play for this event. Three hour concert. Plans to have us again next year.
December 21. 2007, Christmas party lunchan, with the Seniors of Rosamond. They want us back in two or three months.
December 31, 2007, VFW New Years Eve Party, 5 hour concert and everyone enjoyed us. They will be having us back soon. Thank you for the wonderful time in bring in the new year.
From The 700 Club : We appreciate the CD an the great testimony that you had sent to CBN. Jan 28th, 2008
April 25, 2008 Spring concert - Dancing With the Stars - Rosamond Seniors at Hummel Hall
Aug. 31 and Sept 1st, 2008 Opening for Nancy Harmon in Fallon, NV at In My Father's House.
September 26, 27, and 28,2008, Mojave, Ca. Revial meetings at Beacon of Christ Church.
Note: This web-site is under construction and is due to be improved often. Thank you for looking.
Feel free to leave your comments at drglennharshman_5@hotmail.com or call us at 760-373-4204
We plan to start a bi-mothly newsletter and would love to have your e-mail address in order to include you in this new endever. Thanks